Decima MASTM Strumento XZ221-001
1000 Meters Professional Diving Instrument

Decima MasTM and Xa MASTM
Trademark No: 5 260 526 Category: 14
Decima MasTM Strumento XZ221, is a professional diving instrument as well as timekeeper inspired by the 1988 concept (Subacqueo Stagno 1000 Metri, destined for Military use), designed 2003, developed 2005 and produced 2007, by Time To Time Projects (France) and Ennebi (Italy).
The XZ221 Strumento is entirely produced at the Ennebi (Italy) laboratory by highly qualified and experienced engineers, as well as artisans and expert operating staff to achieve a high quality level expected by both professional and discerning amateurs. Its production is set at one instrument per day allowing strict manufacturing, precisions and immersion test check list for each singular piece.
We guarantee that the Strumento XZ221 is manufactured with extreme high levels of precision. Metals, materials, parts, as well as each eye catching details such as finishing, legibility, man operated devices (winding-crown, bidirectional bezel) and engravings are worked to purposely achieve and share the finest craftsmanship representation.
The Swiss movement calibre F2560 housed in the Strumento XZ221 is chosen for its precision, reliability, durability and resistance to shocks. The movement is mounted in a secure technique allowing further shocks to be absorbed. Final movement adjustments and precision tests are made at Ennebi (Italy) laboratory before and after the movement is fitted into the instrument-case.
The Decima MASTM Strumento XZ221 is born from desire and passion, and, to bring forward artisans and experts know-how in a chosen selective style. Embedded with symbols of valour of the Italian Military frogmen 'Incursori' special unit, this instrument commemorates an historical event in which a handful number of 'sommozzatori' (frogmen) demobilised and destabilized the enemy forces without endangering any human lives. For this heroique action, Italian officers and sailors received the 'Medaglia D'Ore al Valor Militare' (Gold Medal of Valor) by the Italian Government, (Alessandria, Egypt - December 1941).
In 1945, during an extraordinary ceremony, Crown Prince Umberto of Italy was about to pin his nation's highest decoration the 'Medaglia d'Ore' on de la Penne's chest. Among those in attendance, a man who like Sir. Winston Churchill regarded his old-adversary as a man who was an extraordinary example of courage and genuity, stepped forward, Sir. Charles Morgan (Vice-Admiral), former skipper of the Valiant and said: 'Thanks to de la Penne's warning, not one life of the 1700 Valiant's crew had been lost'.
Strumento XZ221-001 Technical Specifications.
The XZ221-001 is a water-proof instrument, produced and tested for extreme climatic conditions (high and low temperatures, atmospheric vacuum and high pressures).
Proprietary design; Size: Ĝ47mm (Ĝ54mm with the winding-crown), case height 16mm; case-back, bezel, winding-crown and buckle made of grade 5 Titanium microbillé.
Proprietary auto-blocking bidirectional bezel with preset intervals of 2,5 minutes; Bezel Index at 12 o'clock made in 18K gold. Optional: pantograph engraved rotating bezel.
Proprietary dial and hands; Dial, hours and minutes hand, hand-painted and filled with luminescent coating (Super Luminova).
Organic glass (polymer PMMA), 5mm in thickness, mounted mechanically.
Swiss mechanical movement with automatic-winding, ETA caliber F2560; Functions: hours, minutes, sweeping center seconds; Power Reserve of 40 hours; Frequency 28800 alternations/hour; Incabloc anti-shock system; 25 rubies.
Water-Resistant to 1000 meters.
Presented in a personalized and branded exotic wooden box containing: Strumento XZ221-001, 1 fitted Italian calf strap, 2 screw drivers, manual/warranty/service booklet.
A total production of 1941 Strumento XZ221
Made and produced in Italy.
Public Price (Europe): 4200 EURO (including V.A.T.)
Free shipping for all European countries.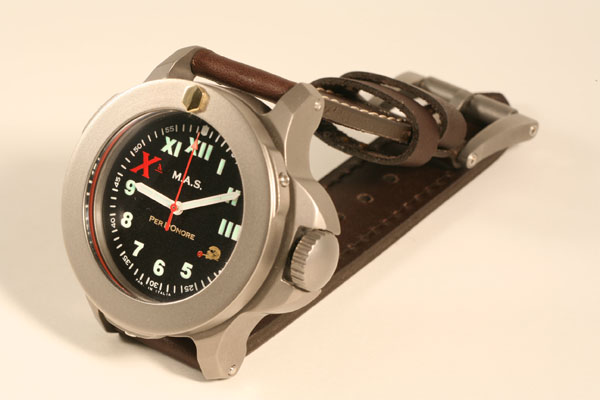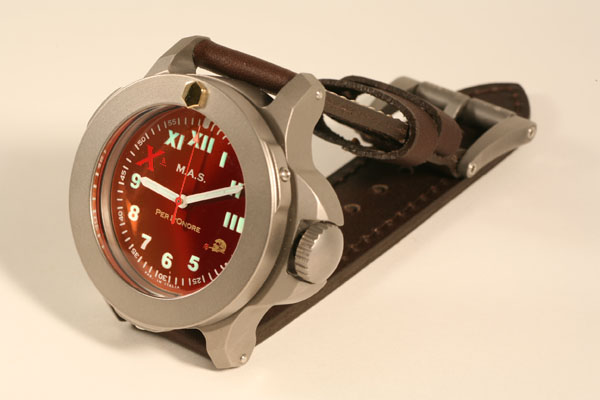 XZ221-001 Prototype P003 Photos: Photo 1 - Photo 2 - Photo 3 - Photo 4 - Photo 5 - Photo 6 - Photo 7
Company policy is one of constant improvement and therefore changes in specifications may be made without notice and without incurring any liability
---
Distributors/Agents:
EUROPE - Time To Time
(Head Office & Distributor for Europe)
29b Rue Pastorelli, Batiment Fiduciel, 06000 Nice, France
e.Mail: TimeToTime

USA & CANADA - J.A. Meyer
156 West Main St, Kutztown, Pa 19530, USA.
e.Mail: JA Meyer

ASIA - Les Montres Pte. Ltd.
Singapore - Tel: +65 6532 5537
e.Mail: Les Montres Pte. Ltd.
---